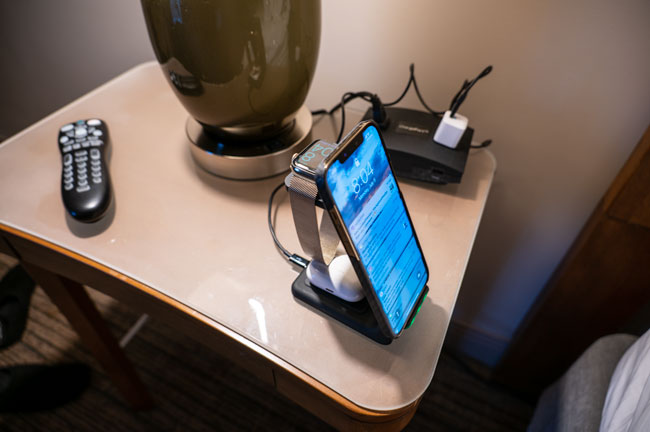 I have three devices that I charge every night. My iPhone 12 Pro Max, my AirPods Pro and my Apple Watch. Each one of these devices can charge wirelessly. At night I simply want to set all three devices on a single charger and wake up fully charged. This is easy at home. As a matter of fact I have two favorites: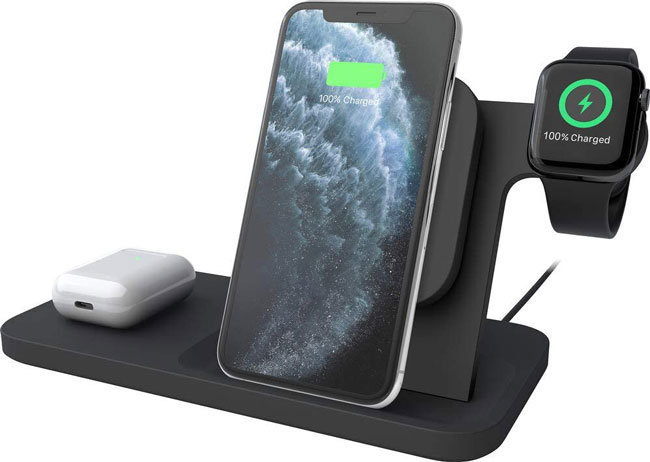 The best all around 3-in-1 Wireless Charger is the Logitech Powered 3-in-1 Dock and the Belkin Magsafe 3-in-1 Charger (for iPhones with Magsafe).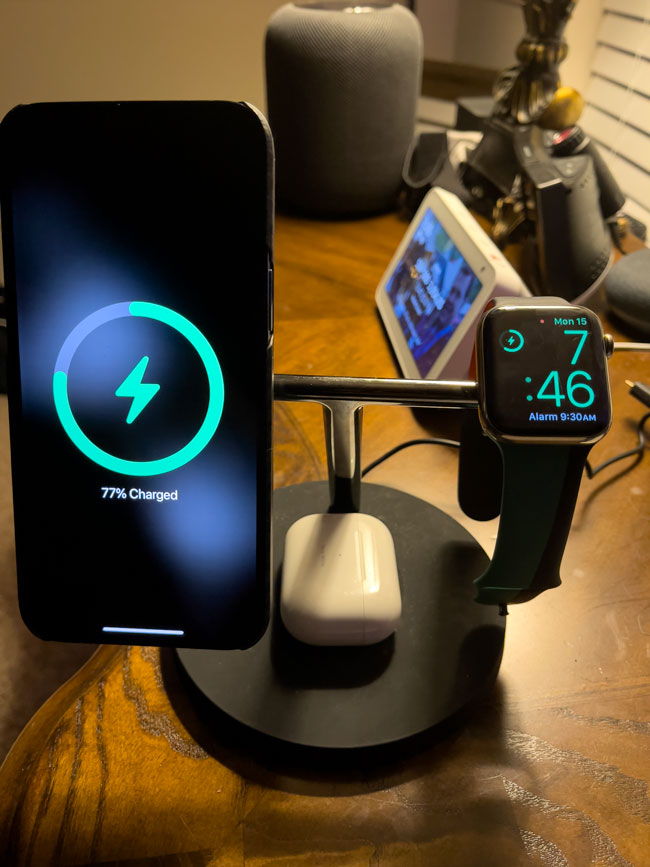 I would have no problem recommending either of these two chargers because they work. However, both are designed to be stationary on a nightstand or a desk. They are NOT designed for travel and frankly they are just too big and bulky for travel.
What makes a perfect 3-in-1 Wireless Travel Charger?
My requirements are not really that hard to meet, yet few companies have products that live up to my expectations. Over the past couple of years I have tried more 3-in-1 wireless chargers than I care to admit. All have ultimately failed me and have been discarded. The first requirement is a simple one. It has to be small enough to easily fit in my luggage without taking up too much space. So it needs to be designed small or fold flat for travel. The second requirement is that it has to charge all three devices simultaneously. Sounds simple right? It has to use one cable and one power supply.
How others have failed?
Every time I think I've found the one charger I was looking for, I'm ultimately disappointed after the first trip with it. Every one I've tried to date either fails to charge one of the devices more than a couple of times and I wake up with a device that didn't charge and is dead. Or the charger isn't well constructed and just easily breaks or falls apart.
This may be THE one!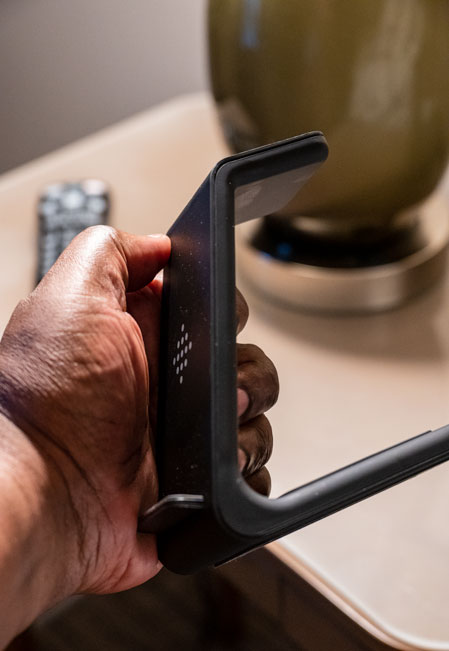 I took a chance and ordered the Share Sunshine 3-in-1 Qi Certified Wireless Charger. It's a brand I've never heard of. However, it looked like it would fit the bill. With close to 2,000 positive ratings, it was worth a shot. I got it, plugged it in to one of my existing Anker USB-C power supplies (it doesn't come with a power supply) and put my iPhone 12 Pro Max on it. It lit up and started charging. Next I put my AirPods Pro case on it and another LED lit up and it started charging. Lastly I put my Apple Watch on it and it started charging. It seems to work. I packed it in my suitcase for my trip that was coming up this week.
My first night with the Share Sunshine 3-in-1 Wireless Charger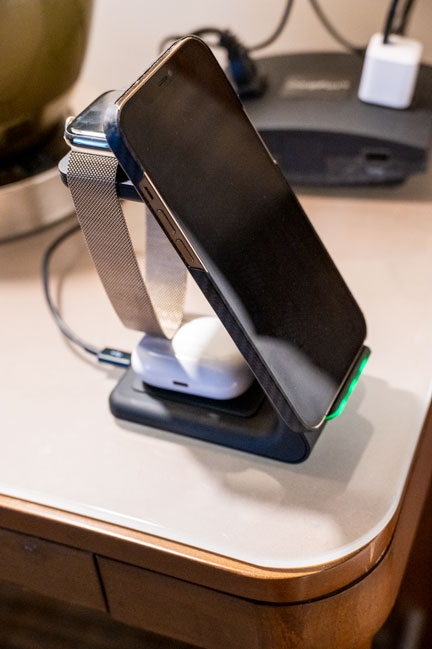 I got to my hotel room, unpacked and setup the charger. It works! But, it's not quite perfect. I noticed a couple of small annoyances. First of all I hate things that have bright unnecessary LED lights. ARGGGGGH!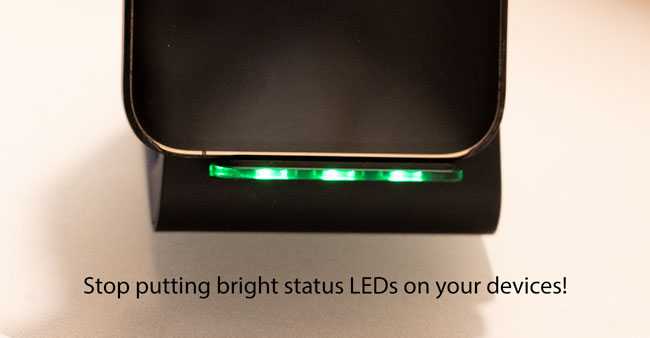 This one has THREE bright green LEDs right up front. Sure I'll cover them with tape, but please stop making stuff that does this. It's ok to have the light come on for a few seconds to let you know it's working, but there is no need for the light to stay on the whole time. I'm a light sleeper (see what I did there?) and lights actually keep me up at night. I prefer total darkness. These are bright enough to light up the room. The only other slight annoyance that I noticed was a couple of times I put my iPhone on it and it didn't light up to charge. Turns out that if the phone is already fully charged for some strange reason I have to lift it off for a few seconds and put it right back on and then it charges/or lights up waiting to charge just fine. Lastly and this is just a design thing that bugs me is that the Apple Watch sits on top of it behind my iPhone. The good thing about this is that it won't accidentally slide off (as it does sometimes on other chargers that are titled at an angle). The down side to this location is that you lose the Apple Watch Nightstand feature of easily being able to tap to see what time it is in the middle of the night. To get around this somewhat, you can put your iPhone on it sideways so that it doesn't block the Apple Watch.
The Bottom Line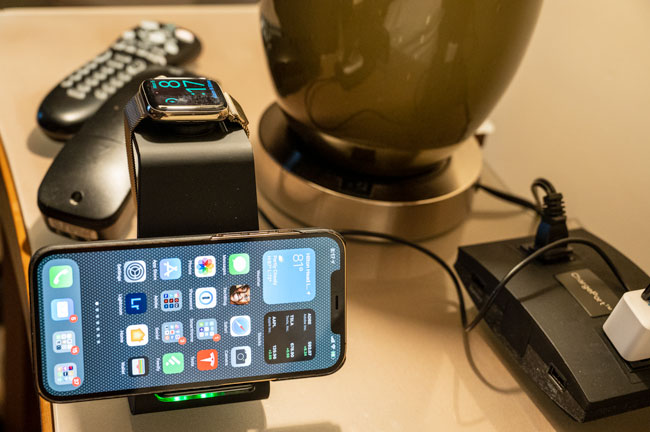 The Share Sunshine 3-in-1 Qi Certified Wireless Charger is certainly the best one I've used to date for travel. However, it's not perfect. It's really good, just not perfect. The size is good. It does what it's designed to do. So far each day all three devices got charged with no issues, but I'm still searching for the near perfect 3-in-1 Wireless Travel Charger.
Even Apple has failed to deliver a 3-in-1 charger. Their AirPower never made it to market. My guess is that it was too hard to make a device that was both a Qi wireless charger and an Apple Watch charger that would allow you to put devices anywhere on it and they would charge.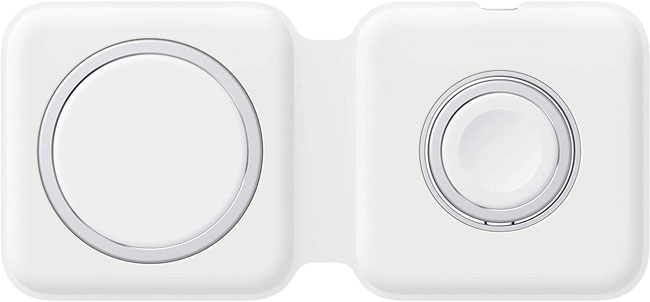 The Apple MagSafe Duo charger is AWESOME design wise for travel because it folds flat, but it doesn't meet my requirements in that it only chargers an Apple Watch and one other device AND it's super expensive for what it is. It's also shocking that Apple chose to make a Duo charger instead of 3-in-1 since they sell all 3 devices that people would want to charge. You'd think they'd get that.
Logitech and Belkin I need you to make a version of yours that is smaller/folds down for travel. The current design is right, but the size is just too big.